Summary
The 21st month of the project is rapidly coming to an end, I am summarizing the project achievements.
Exactly 2 years ago, on September 17, 2020, when submitting a project application to work with immigrants for the next two years, we "shot in complete darkness". Already in the previous season, the pandemic had surprised the whole world unprepared. And back then predicting life for the next two years, i.e. writing a project, making commitments, bordered on fantasy genre literature. At that time, the EDC project team undertook to educate 400 third country nationals by organizing 120-hour Latvian language learning groups of various levels, in total 35. Even though movement in the world had already stopped, we wrote that three quarters of the learning groups, i.e.  27, will be organized as face-to-face lessons and 8 groups – remotely.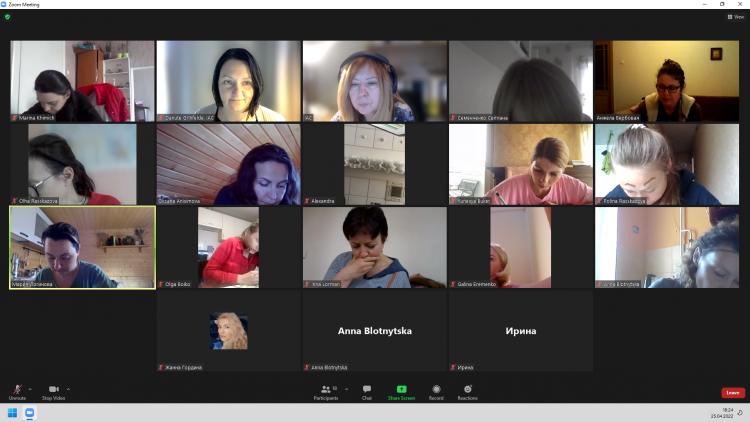 When analysing the risks, the many global changes that will have to be faced could not even come to mind. It seems that not two years have passed, but two decades, and we have started to divide time – before Covid, during Covid, before the war and during the war. In order to continue to provide language courses, we have had to deal with various challenges: innovative technical solutions, restructuring of courses, illnesses of teachers, team, students, prohibitions, restrictions, uncertainty, threats and fear of war, conflicts between participants due to different beliefs and the function of language as a support group for refugees.  
Even though this time turned out to be harsh, we "swam out"; the implementation of the courses was not interrupted. The courses were mostly organized remotely and there were more students than originally planned:
- 530 third country nationals completed the 120-hour Latvian language course
- 40 Latvian language groups were held (37 remote and 3 face-to-face), 657 students started learning in the project
- closing events were held for 215 participants. 
The closing and evaluation events of the project brought joy to the EDC team, teachers, students and their family members. It was a place where distance learning participants had the opportunity to meet their fellow students and the teacher in person, whom they had seen only in screen boxes for several months. In the summer of 2021 and 2022, while in-between the restrictions, we gathered everyone in the Ethnographic Open-Air Museum to learn about ancient times, traditions, enjoy Latvian food, dances and music! We also went to see the most beautiful palaces in Latvia – Rundāle Palace and Jelgava Palace. 
Summary of the evaluation questionnaires of the students throughout the project shows that more than 90% of the respondents are fully satisfied with the course. The students mention that as a result of the course they are better able to communicate in Latvian in public places, understand and fill out documents in Latvian in various institutions and understand current information around them and in the media. 
At the end of the project, I would like to say THANK YOU to the project team, teachers and students who supported each other and were able to group together in a wide variety of not-so-simple situations during the learning process!
Project manager – Linda 

Projekts (Nr.PMIF/6/2020/3/02 ) tiek īstenots  Eiropas Savienības Patvēruma, migrācijas un integrācijas fonda 2014.-2020. gada plānošanas perioda ietvaros ar Eiropas Savienības (75%) un Latvijas valsts budžeta (25%) finansējumu.  Projekta kopējās izmaksas 275 520,71 eiro.